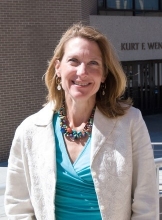 Data Services Consultant, South Central Library System
Jody Hoesly brands herself as an "Information Engineer", joining her 10 years of experience in the library profession with over 10 years of experience as a mechanical engineer.  In her current position as a Data Services Consultant, she designs and develops data resources to support libraries.  Prior to joining SCLS, Jody's library career included working as an academic librarian for the UW-Madison College of Engineering and as a teacher-librarian for the New Glarus School District.
A resident of New Glarus, Jody serves as a trustee for the New Glarus Public Library and was recently elected to the Green County Board of Supervisors.  In her free time, she enjoys helping her husband on their farm, running with her dog, and visiting with her 4 children/2 grandchildren.